Formerly Age Friendly Innovators
Preventing falls, preserving homes….
In late 2018, Rebuilding Together Rogue Valley affiliated with the national Rebuilding Together organization (www.rebuildingtogether.org) whose complementary vision is: Safe Homes and Communities for Everyone and whose mission is: Repairing Homes, Revitalizing Communities, Rebuilding lives.
Rebuilding Together Rogue Valley's Safe-at-Home program has been developed to help low-income seniors and persons with disabilities safely "age-in-place" as long as possible in their current homes.  Preventing falls, improving accessibility and providing improved indoor air quality will save lives, save dollars (the cost of a major injury fall is in excess of $30,000) but also addresses the housing crisis in Southern Oregon but helping keep this vulnerable demographic from needed public housing or becoming homeless.
In Southern Oregon a many low-income senior are living independently but lack resources to make needed safety improvements.  Their homes may be a single-family structure, a manufactured home or even an aging recreational vehicle.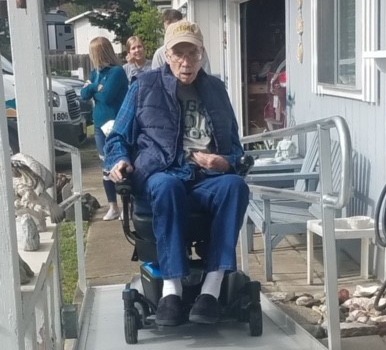 I just wanted to pass along a huge thank you to you and your organization.  My dad loves being able to come "home".  This wasn't possible before the ramp was installed.  It has truly been an incredible blessing to our family.  My mom wanted me to pass along some pictures as well. Thanks again, Scott Rucker and Family