Grandma's Porch Fund
Preventing Falls, Preserving Homes
Each year, one third of adults over 65 fall – our mothers, fathers, grandmothers and grandfathers.   Every 11 seconds, an older adult is treated in the emergency room for a fall; every 20 minutes an older adult will die from a fall.   Many, if not most, of these falls are preventable.  Grandma's Porch helps save lives.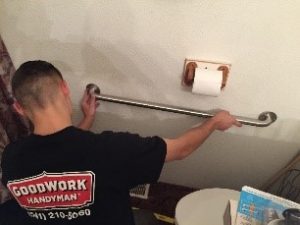 Rebuilding Together Rogue Valley, a 501(c)(3) nonprofit organization, helps low income older adults stay in their homes and communities safely. RBT-RV has developed an assessment process, based upon Centers for Disease Control and Prevention (CDC) fall-risk criteria. It is designed to provide older adults an evaluation of their personal risk of falling in their home.
Referrals to this program come from local hospitals, as well as regional and state agencies and organizations engaged in senior care.
The assessment process takes 30-45 minutes and is provided at no cost by National Association of Home Builders (NAHB) Certified Aging-in-Place Specialists or trained volunteers under their supervision.
The assessment covers four critical areas in the home:
Accessibility
Trip Hazards
Bathroom Safety
Home Environment Safety
If the residents cannot afford the recommended items (grab bars, shower chairs, railings, etc.), Grandma's Porch Fund covers the cost of materials and labor necessary to reduce fall risk for low-income adults.
The assessment may also identify needed in-home safety items such as smoke detectors and batteries, CO detectors, allergen reduction furnace filters or emergency lighting.  Identified safety needs, up to a pre-determined cap, can be provided by Grandma's Porch.  Older adults on a limited, fixed income often cannot afford the small things needed to safely remain in their homes.
Grandma's Porch utilizes state-licensed and bonded "handymen" to carry out all technical installations (grab bars, railings). Local foundations, hospitals, health care providers), and individual donations support our programs.
Contributions to Grandma's Porch Fund are tax deductible.  Make checks payable to Rebuilding Together Rogue Valley. Mailing address for both is:  PO Box 1837, Jacksonville, OR 97530.
View the Fall Risk Decision Tree
Grandma's Porch 2018
Summary Report
In-Home Referrals – 213 (versus 103 in 2017)
Home Type
Single family – 119
Manufactured home – 63
Apartment – 25
Recreational vehicle – 6
Average Cost of Installations – $330 (119 Grandma's Porch installations)
Note:  Some referrals still have pending installations, other referrals were self-pay or forwarded to other agencies.
Costs:
Ramp and porch repair & construction $15,418
Durable Medical Equipment $14,487
In-Home Safety $5,004
Handymen $18,785
Storage $1616
Indirect & other $1,004
Grab Bars Installed – 273
Ramp/Steps Porches
New ramps built and installed – 18
Ramps/porches/steps repaired – 15
Referral Source:
ACCESS – 24
ADRC – 7
AllCare – 28
Habitat for Humanity – 7
Housing Authority of Jackson County – 5
Providence – 25
Rogue Valley Council of Governments – 18
Other – 99 (self, family, friends, etc.)